Basic Bookselling
The next course begins March 2024, with 10 classes, ending in May 2024. Classes are 7 pm ET / 6 pm CT / 4 pm PT.

Independent Study will open soon, and you take this course as self-guided for certification or for learning purposes.
Our Basic Bookselling Course is designed to welcome staff into a career in bookselling. It is intended as a primer for frontline booksellers with a year or less experience. The course introduces the book industry as a whole, and the knowledge and skills necessary to succeed in bookselling, including: merchandising, hand selling, creating shelf talkers and other reviews, customer service, and creating displays that sell.

---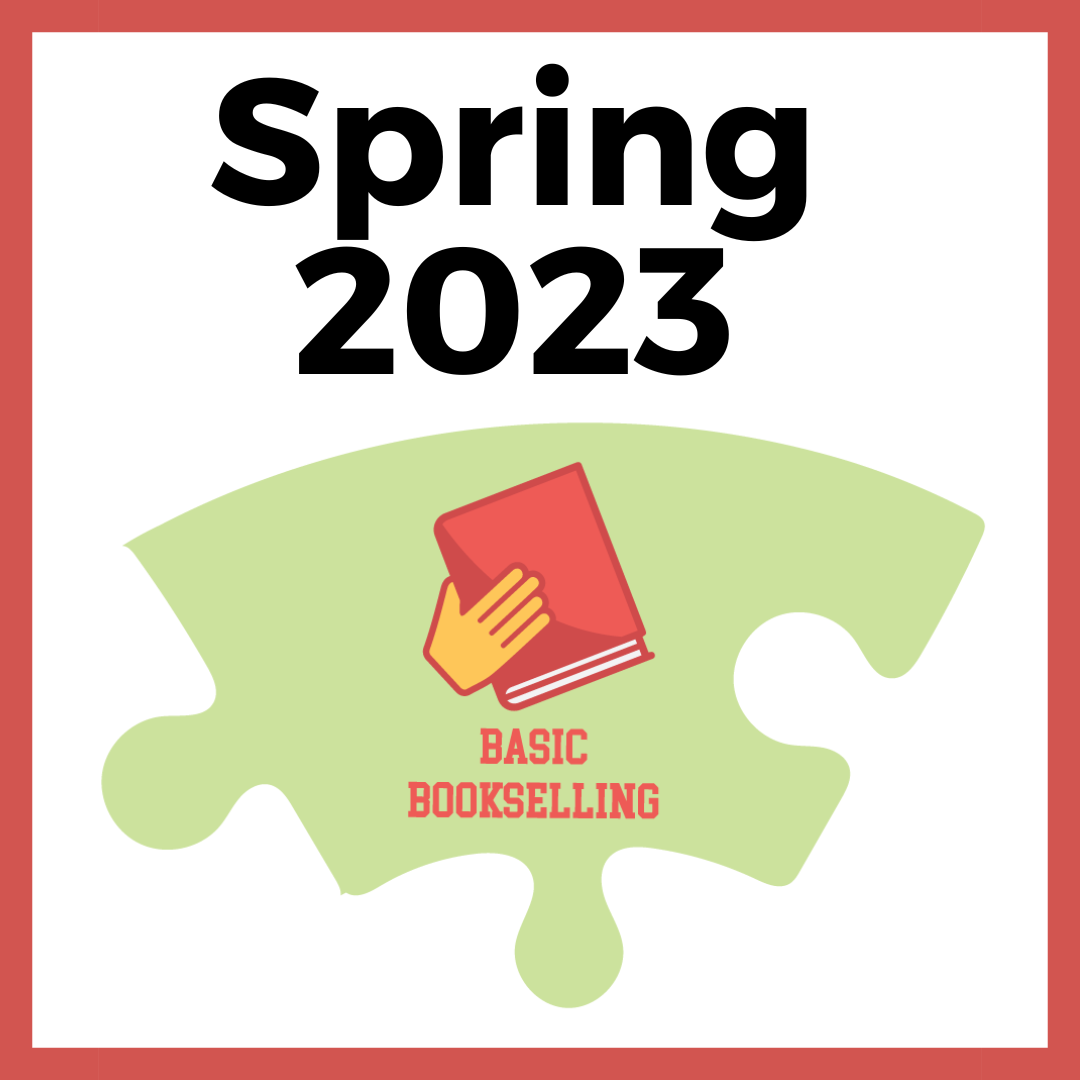 ---
---
2023 Course Instructors
Dean Gary Lovely, Manager, Prologue Bookshop, Columbus, OH

Susan Kehoe, Owner, Browseabout Books, Rehobeth Beach, DE
John Evans, Co-Owner, Diesel, A Bookstore, Los Angeles and San Diego, CA
Gabriel Moushabeck, Owner, Booklink Booksellers, Northampton, MA
Sarah Bagby, Owner, Watermark Books & Cafe, Wichita, KS
Heather Hebert, Owner, Children's Book World, Haverford, PA
---
Membership
Being an active member of the bookselling industry is a critical step in growing a bookstore and shows commitment to your chosen profession. Stores with students in all Professional Booksellers School courses are required to be current members of their regional trade association and/or the American Booksellers Association. Students must also be enrolled in PBS, which is free.
Course Components & Cost

This course consists of live classes via Zoom and live presentations of a final project. Homework is assigned for each class. Students are expected to attend the live classes and finish and pass all homework to be certified. The course is $125, with discounts available for members of NAIBA, CALIBA, and MPIBA. Some regional trade associations refund the full registration cost for students who successfully complete the course and are certified.
Course Objectives
The Professional Booksellers School Basic Bookselling Course provides booksellers with the skills and tools to:
understand how bookselling fits into the overall book industry
learn the vocabulary of bookselling
provide outstanding customer service
handsell to adults and kids
understand a store's layout and merchandising strategies
write effective reviews and shelf talkers
make use of foundational resources such as the ABA, regional trade associations, Edelweiss+, BINC, IndieNext, and other industry organizations
Major Project Deliverables
Weekly shelf-talker/book review and a final project of a display built to serve the store's customer base and mission statement, with shelf-talkers and live handselling demonstration.
Classes
Class 1 – Welcome to Class, Syllabus Review
Class 2 – Bookseller Tools & Services
Class 3 – The Makings of a Bookseller
Class 4 – Inside the Store & Merchandising
Class 9 – Finances of Bookselling
Class 6 – Customer Service & Engagement
Class 7 – Sales
Class 8 – Handselling: Children's Books & More
Class 5 – Inventory & Curation
Class 10 –Live Presentations of Final Project
Learning Outcomes
By the end of the course, participants will be able to:
Understand how Indie bookstores work including roles within stores and how stores function within the book industry, including how publishers work, Ingram, ABA, trade associations
Gain a functional knowledge of how books are acquired and reviewed, including being taught about: the ABA, white boxes, Edelweiss, Indie Next, BookTok, and the relationship between a store's mission statement and which books are stocked and displayed
Identify and understand the traits, skills, and practices that make a frontline bookseller successful, including understanding where to find information on genres and books, understanding leading literary awards, and how effective hand-selling works
Understand how to capture and increase sales, including special orders, sidelines, wrapping
Understand the basics of bookstore design and how to create effective displays
Gain skills applicable to an entry-level bookselling job, including copywriting, display design, and the creation of marketing and publicity ideas
Write an effective shelf-talker or blurb
---
---